Posted by Trista Chan
Being a mother is an experience only someone who has been through it can comprehend. Sure, it has its share of mood swings, bad days, weight gain, etc., but the end result is something spectacular. Seeing a tiny life being brought to existence is absolutely worth going through all those difficult times. However, after that crazy experience, there is another challenge waiting for new mothers… the end of their maternity leave. After long hours of discussions and weighing in of options, some mothers make the call to return to work. It can be an adjustment period for some, but things don't have to be as complicated as you may have thought.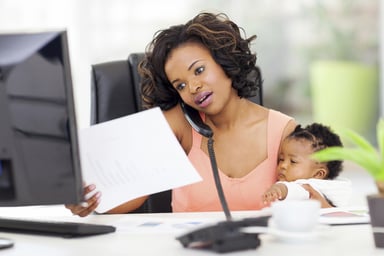 Here are a few tips on returning to work after your maternity leave:
Prepare a new routine for yourself
Preparation helps in any situation, and post maternity is no different. Getting yourself organized would mean a major chunk of the transition from home to office is complete. The following are some of the ways you can prepare yourself for the change in routine.
Set your alarm 30 minutes to an hour earlier to wake up and get organised. As a new mother, there are bound to be things that pop up and take up a lot of unexpected time.
Prepare a day-to-day task list of what you need to get done before heading to the office and when you leave the office so you don't feel overwhelmed and flustered.
Have a conversation with your employer regarding their expectations from you. Explain that there will be days that you may be late or run in to an unexpected situation and ensure you have a flexible arrangement.
Treat yourself
We're all aware of what pregnancy does to a women's body, which is why it can be really difficult to get back into pre-pregnancy clothes right away. One of the easiest ways to boost your confidence is to treat yourself to some new clothes, and while you're at it, why not get a hair treatment and a manipedi to keep your confidence index in the green zone.
Ease into it
If possible, schedule your return date for the middle of the week. A full week away from your baby won't be easy, so it's best to see if you can ease both yourself and your new born into being away from each other. You could opt to work 6 hour days, or only 3 days per week in the beginning to get in to a routine.
The transition might not be easy and you might run into some road bumps, but these things shouldn't demotivate you from returning to the workforce. It might take a couple of days or weeks to get back in to the swing of things, but in the end it will all be worth it.
These are valuable tips to follow, as you now play a role as both mother and employee.  However, remember that workplaces also have the responsibility to create policies and practices that support you and your family.
For tips on how to create a workplace culture that supports mothers, contact engage@myoptimity.com to get some custom strategies and best practices.
Trista Chan is a Wellness Strategy Advisor at Optimity.  She leverages her education in nutrition and experience in corporate health to guide organizations in building healthy, engaged employees.  Her "me-time" activities include yoga, reading health blogs, cooking….did she mention she likes wellness?  Her passion for all things health-related shines through in both her work and personal life.  
Sign up for Optimity to start leading a healthier life and claiming rewards!